Studieren nach der Ausbildung
Mit einer abgeschlossenen Berufsausbildung als Winzer*in oder Weintechnolog*in kann man als sogenannter "Direkteinsteiger" das Studium beginnen und damit das Studium auf sechs Semester verkürzen.
Um in das Studium Weinbau und Oenologie mit abgeschlossener Winzerausbildung direkt einsteigen zu können, benötigt man Credits für die Fächer "Allgemeine Betriebswirtschaftslehre" (ABWL) und "Chemische Grundlagen für Weinbau und Oenologie". Als Küfer bzw. Weintechnologe sind zusätzlich Credits für das Fach "Grundlagen des Weinbaus" und eine dreimonatige fachspezifische weinbauliche Praxisphase vor Studienbeginn erforderlich. Voraussetzung ist in jedem Fall eine Hochschulzugangsberechtigung.
Weinbautechniker können die Anerkennung studienrelevanter Module, die sie mit gutem Erfolg abgeschlossen haben, prüfen lassen.
Während des Studiums nehmen alle Studierenden an der Durchführung von fünf Praxisprojekten in Winzerbetrieben teil.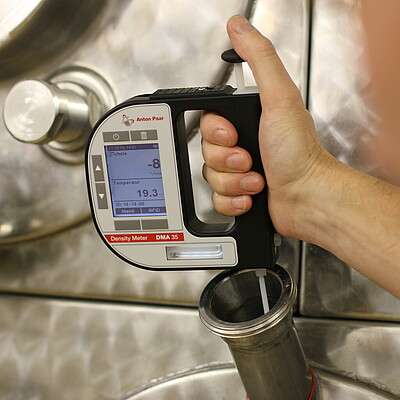 Direkteinstieg bedeutet....
Wissen vertiefen
Viele Praxisprojekte werden von Studierenden zusammen mit Doktoranden und Forschern in Rahmen von Forschungsvorhaben bearbeitet. So lernen unsere Studierenden anhand kleinerer Teilaufgaben im Projekt wie man Fragestellungen der Zukunft beantworten und in die Praxis transferieren kann. Erste Kontakte zu Forschern und Ideen zu Forschungsthemen für spätere Master- oder Promotionsvorhaben entstehen. Hier profitieren die Studierenden auch von der großen Forschungstradition unseres engen Partners DLR Rheinpfalz, das als eines der weltweit fünf Zentren für Sensorik etabliert ist und in vielen Gebieten der Forschung rund um Weinbau, Kellerwirtschaft, Mikrobiologie, Phytomedizin und Gartenbau einen ausgezeichneten Ruf genießt.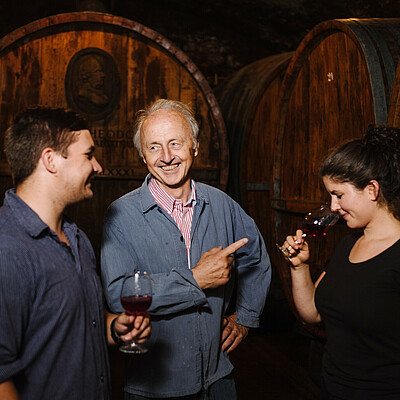 Direkteinstieg bedeutet.....
Hervorragende Berufsaussichten!
Das breite und doch tiefgehende Studium in den Gebieten Weinbau, Oenologie und Marketing/BWL ermöglicht dir eine breite Auswahl an Berufsfeldern. Du arbeitest zukünftig zum Beispiel in der Produktentwicklung, der Marktforschung, im Weineinkauf für Discounter, im Bundessortenamt, in der Rebenzüchtung, im Labor, als Vertriebsleiter, als Redakteurin oder ganz klassisch als Kellermeister oder Betriebsleiter. Fest steht: Nach deinem Bachelorabschluss stehen dir alle Türen offen. Fast alle unsere Absolventen haben schon vor dem Abschluss einen Vertrag in der Tasche.
In the Words of Our Students
Elias Kuntz
I'm doing dual studies because I believe it makes sense to go into business later with practical experience in hand.
Student in the dual-studies program Viticulture & Enology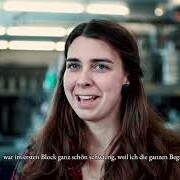 Katharina Todtwalusch
As someone who was coming in as a career changer, it was quite difficult for me in the beginning. But by the first fall, I could already connect what I knew. You keep going through this phase: ok, now I have questions again, and then you come back here, and then you're able to bring new ideas back to the winery.
Student in the dual-studies program Viticulture & Enology
Verena Reiß
Next year I will go to New Zealand for three months. The Weincampus helped put me in contact with this winery. It's great that the Weincampus also supports this, enabling students to do so.
Student in the dual-studies program Viticulture & Enology
Lukas Hoth
We have very close contact with professors and work colleagues. We always have the chance to ask questions or get in touch outside of class.
Student in the dual-studies program Viticulture & Enology