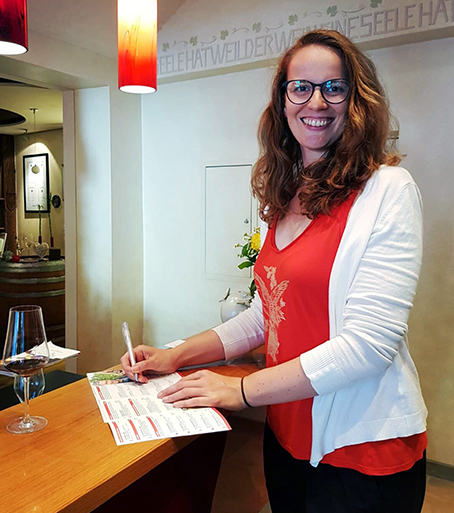 Franziska Hübsch started her MBA studies at Weincampus Neustadt in the winter semester of 2019, when she was still working in the automotive industry. Very quickly, she made the courageous decision to follow her passion and to change her career completely to the wine industry. She combined her experience from the industry with the wine knowledge and management skills from her MBA studies and dared to take the step into self-employment! The interview was conducted in February 2021.
1 What are you currently doing?
Currently, I am putting a lot of energy into developing my own business as a self-employed solo entrepreneur. I originally started "Weinfimmel" to offer wine seminars in Berlin. Meanwhile, my focus is on consulting for small, family-run wineries in the areas of marketing, communication and strategy. At the same time, I am on the final stages of my MBA and will soon be starting my final thesis.
2 Being from Berlin, how did you get involved with wine in the first place?
I first came into contact with wine years ago when I spent a semester abroad in southern Italy. Back then, everything started with a table wine in a Tetrapak. Back in Germany, I attended various training courses over the years and worked at wineries. This deepened my interest and passion for wine. As time went by, I realized that I wanted to deal with the subject professionally. That led me to the MBA!
3 What work have you done so far and did wine play a role in it?
Although my passion for wine has accompanied me for many years, the topic has not yet played a role in my professional life. Originally a political scientist, I went to Nepal for a year as a development worker after graduating. After I came back, I ended up - actually quite unplanned - at an automotive supplier. What started out as a brief stint turned into seven years during which I worked on an international level in the areas of sales, process management and organizational development.
4 How did the change come about?
After the seven years in the automotive industry, I felt the time had come for a change: true to the motto "It's now or never!", after careful consideration I decided to quit and enrolled in the MBA at the Weincampus. It was important to me to study something where I could also usefully incorporate my industry experience and not start from scratch. To this day, I am very happy that I took this step!
5 Why consulting work for wineries?
I have found that especially the small, family-run wineries are often a "one-woman" or "one-man" show. The winemaker stands in the vineyard, then in the winery, sells wines, is expected to take care of social media and in parallel still improve processes in the business. Inevitably, issues fall by the wayside. There's no such thing as a perfect solution. I think winemakers overtax themselves. Just as investing in a new grape press pays off, so does investing in professional support for business organization or marketing.
6 How did the MBA contribute to this development?
Through the MBA, I gained a lot of knowledge around strategy and management in the wine industry. I also received a lot of inspiration and made new contacts. Overall, through the studies I increasingly developed the competence and self-confidence to want to start my own business in the wine industry. The exchange with the other students helped me a lot and gave me tailwind.
7 How do you help wineries?
Wineries are often stuck in their daily routine - we all know the feeling. In the first step, a fresh and critical look from the outside helps. During my previous job in the automotive industry, I prepared audits and worked closely with quality. Now it's in my blood, so to speak: first understand where exactly things are going wrong, what's needed, provide food for thought and implement initial, simple measures for - for example - more reach. As a solo entrepreneur, I advise wineries personally and individually. At the same time, I can draw on a network of contacts who support with special topics.
Great, thank you very much continued success!
If you want to learn more about Franziska in moving images, you can find a short interview with her on our Youtube channel! You can contact her at weinfimmel.de.